october 1998
Top news
ANSI SEMINARS! (massd)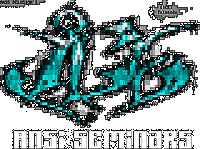 Mass Delusion and iCE present the all-new iCE Ansi Seminars! New and aspiring artists can come with their in-progress ANSIs and get help from some of iCE's biggest and best names. The first seminar will be Sunday, November 8th at 11:00am PST / 2:00pm EST on #iceansi and will feature none other than Tetanus and Kadaver! All you have to do is drop by #iceansi/#ice and show us what you have - we'll help as much as possible with tips and technique for outlines, coloring, shading, backgrounds, and more. If we find one we like, we might even put it in the iCE pack! You can be sure Kadaver and Tetanus have some good tricks up their sleeves - they've combined for 78 releases since they joined iCE!
Come one, come all, these are the tutorials you've been asking for!
31 October
HALLUCIGENIA RELEASES (etana)
It's halloween and that can only mean that Hallucigenia's special October pack is now available. Download the pack, hal1098.zip (2.5Meg) or view it online at our website.
SOULS #3 IS RELEASED! (nightstalker)
hi there! souls #3 is out ! as usual you can find some awesome .rip art in there ... get it at : ftp.cdrom.com/pub/artpacks/artpacks/1998/souls-03.zip

ICE RELEASE! (massd)
iCE is proud to announce the release of its 10th pack this year with a special one-day-early release for Halloween Art Fans! The new pack features lots of work from old and new iCE artists and is already a collectors item - fetching over $300 per disk on the open market! Be sure and pirate your very own version from the following sources:
ftp.ice.org in either /incoming or /pub/icepacks/1998
artpacks.acid.org in /incoming
IRC on #iCE
Enjoy your halloween, and be sure to celebrate in the iCE style:
consistent, hardcore, and full of fun.
-Mass Delusion / iCE Senior Staff
30 October
MUSEUM NEWS (dangermouse)
Someone submitted art museum/gallery related news item about a month ago which has since gone missing, if you would care to submit it again, it will indeed be posted -- that goes for any art related news too btw..
MIMIC ON THE WEB! (dangermouse)
Mimic!ascii has now got a web site on the net for all to see, so go have a gander.
PFC ARTPACK #2 (greendug)
PFC 2-nd artpack named "Alien thing" on cdrom.com now. Leech and enjoy. Nice art from Russia. ftp://cdrom.com/pub/artpacks/artpacks/1998/pfc-art2.zip
29 October
MASSIVE #4 (pariah)
Massive #4, an emag dedicated solely to the ascii scene can now be found at your local magazine retailer. (From mmcFiles on irc by typing !massive4 in #ans or #ascii, by getting #1 from pariahFAT on irc, or by downloading it from ftp.artpacks.acid.org).
HIREZ.ORG UPDATE AGAIN (mongi)
Hirez.org is standing still. I simply do not have time to work on it by myself studying at the highest rated engineering university in Sweden and all. If no one shows any interest in helping, you will have to wait quite awhile before the site gets up. So there. Now you don't have to ask me anymore when the site gets up.
What I need help with is CONTENT. I already have the site design. I need the usual stuff: articles, interviews, profiles, hirez-reviews etc.
SCROLLZ 3 IS OUT! (bluedevil)
The lost Issue of Scrollz, Issue 3 has been released. WIth no code and all lit, we still make a point that we are here with plenty of content. Download your lost issue of scrollz now!
1.08MB ANSIMATION IN ICE 9810A (massd)
In just a few days, iCE will release our iCE9810 pack, included in this pack will be the iCE Blender Kombat
Ansimation that beat ACiD about two months ago. When we submitted the ansimation to blender, it was in 10 pieces. Since we only had 6 hours to work on the piece, we weren't afforded much time for optimization or to fix the actual technical aspects of the ansimation - we concentrated on the art (which I still think is pretty cool in 6 hours).
The long and short of it is, for everyone who didn't get to see it, this iCEPack will feature the fully cleaned and fixed ansimation including two screens that I left out in the original ansimation due to confusion. Unzipped, the ansimation weighs in at 1.08MB, and runs 2 minutes exactly at 56k viewing speed in ACiDView (yeah
yeah, you have to use acidview or another viewer that supports ansimation, we're working on it).
Expect more fun coming in the next months from the team that puts "monkey sex" back in "ansimation"! You'll see what we mean.
27 October
A HAL-O-WEEN RELEASE (etana)
For us, Halloween seemed to have "Hallucigenia" written all over it. Watch for us October 31st, as Hallucigenia presents its very special HAL-o-ween release. Be warned though, this pack has more surprises than a graveyard under the full moon... <insert maniacal laughter here>

26 October
PARASITE'S LOGO SALE (parasite)
E-mail chendi@caam.rice.edu for your very own parasite(tm) logo! $5 for ~20 line logo.

25 October
WE HAVE A WEINER! (count zero)
And the winner is... Drum roll, please... Dissonance, of Awe Lettering! His entry narrowly beat out Cthulu's rather disturbing narration of what he would do to me if I didn't give him the pic. I sure hope he doesn't follow through :). You will see the ansi that dissonance woin in the next iCE pack, along with his winning entry. I intend to run competitions like this in the future as well, so keep your eyes glued to Acheron and the iCE packs for updates. Thanks to Cthulu, Quip, Damien Clark and e_side for entering. Better luck next time.

24 October
OOZE DEAD (dangermouse)
Just thought I'd let you guys know that the australian scene emag "oOze" is now officially dead. Maeve Wolf/Tatharina's statement is:
"Ummm.. ooze is now dead.."
I think we should all recognise what a great job they did over the three issues they released..
ps. There WILL be a final issue :)

THE LEGION CHAPTER 07 (maestro)
The Legion Chapter 07, "HARVEST", will be released on October 31'st which is Halloween for all you knuckleheads that don't know. We wanted to be cheezy and actually release a REAL Halloween pack because we're cool like that. Trick or Treat!

23 October
NEW GROUP (dangermouse)
A new group called sadist has emerged, reportedly headed up by sephiroth.You can join them in #sadist..

FOS: THE REUNION ARTPACK (inazone)
If you haven't heard, FOS will be having a "reunion pack" with artwork by past and present members, which will release in early January `99. It's a reunion because FOS originally started out as an artgroup (1995-97); some of the packs are still available on ftp.cdrom.com if you want them. Anyway, if you were a member of FOS at any time between March `95 and now (either in the artgroup or on the magazine staff), you are invited to participate. Former members of the old groups Sabre and RAiN are also invited to join in if there's any of you still around. Guest art is also being accepted, but we're asking that all submissions be unique to the FOS pack since this is a one-time deal.
The deadline for submissions is December 20. Also, articles for FOS #12 are due by November 15. Thanks!

FREE PIC PEOPLE! (count zero)
What's wrong with you people? I advertise a free pic, and so far I've only gotten 3 responses. And two of 'em weren't very creative at all! I want things like "I should get the pic because aliens are holding my mother for ransom, and they demand a kickass c0 ansi as the price!" Except I want 'em to be cooler than that, 'cause I know there are people out there who can think up better stuff than me. This is a free pic! Where ya gonna get a better deal?! Nowhere! So get off your ass and submit something to me! If you don't submit something, and then I catch you bitching at me for free ansi on IRC, I'm gonna open up the can of whup ass on ya.
22 October
NEW GROUP (inforce)
Aight, inforce here, beeen gone for almost a year... Im gonna be coming back in 2 months, and i'll be starting a group (vga,ansi,ascii,lit,etc) so if anyone is interested in joining or wans to co-found it with me, please email me with your app (art samples etc) and ill get back to you all in 2 months =]. also props to DM for keeping acheron going all this while.. looks good. but i kinda liked the first setup.. ehheeh aight, inforce (formerly rca/dvs/glue/gray etc.)lates!!!!
21 October
PHUNK OF PLF #15 (plf)
Yer favorite crew strikes back with a zipfile full of art! If you havn't allready got it. Just get it! if yer elite you'll find it!
19 October
FREE PIC! (count zero)
Howdy. Here's the deal. I've got this pic that I'm working on (and almost finished). However, I have nobody to do it for; nobody has request a pic from me in awhile. So, just 'cause I'm a nice guy, I'm gonna *give* this pic to whoever e-mails me with the best reason for why they should get it. So think up something creative, and e-mail it to mikeshea@hotmail.com. I'll leave this open until Friday afternoon (That's the 23rd). After that, you're outta luck.

Just to clarify something: You also have to include, in your "reason why I should get the pic" message, the name of the group/board/net/whatever that you want the pic to be for, so that I can do a logo to add on to it.
HELP WANTED (dangermouse)
Okay people.. Acheron has been online for 1 year and 10 months, and its becoming a bit much for me and spot to do alone.. I need people who will be willing to write articles (about anything), gather art for the art gallery, photos, news items, and anything else you think acheron needs.
A redesign might also be in order near the end of the year, so any interested parties please say so..
Come on guys, get i
AWARDS 98 NEWS (dangermouse)
The awards98 full nominee list is now online, so peruse it and tell me if anything needs to be added or removed. Have fun.
17 October
NEW SCENE CHANNEL (clumsy)
There has just been a new scene channel created for all artists, if you are interested in coming, it's #scene on EFnet... because.... efnet is the only way to fly : ) ... see you there
FOS: THE ELEVENTH COMING (inazone)
Fistful of Steel #11 is done, and ready for consumption by the masses. Articles by Count Zero, 4th
Disciple, Blue Devil, Palidor and myself, plus an interview with Maestro and a logo tutorial by Count Zero.
Reviews for Avenge, Legion, Ice and Glue, and artist of the month Creator.
You can get the new issue from me on IRC, in email (click above to request it) or from artpacks.acid.org
16 October
HIREZ.ORG UPDATE (mongi)
The work with hirez.org is going pretty slow. Because:
1) I don't have much spare time for now
2) No one has shown interest in helping. I'll go find people now that I think can be interested and ask them
personally.
As soon as I have time I'll launch the site. As for now, the site is a temporary model.
15 October
REQUESTS (count zero)
Just to let y'all know: I'm not currently taking font requests. I've decided that, to stem the tide, I'll open requests at the beginning of each month (wait for the announcement), and the first couple logo requests I get, I will do (the exact number will vary from month to month, depending on how busy I am).. I'd like to start concentrating more on quality than quantity. Oh, and remember... Pic requests are also welcome, but they're not free. Make me an offer by mailing mikeshea@hotmail.com. Later...

PURG NEEDS ARTISTS (jandor)
Purg is in great need of ANSi Members. We have always been a group that mixed all different mediums of art. Please feel free to apply as a starting artist or an experienced artist. Goto http://www.purg.com to apply or email Jandor.
13 October
PFC 2ND MIX IS OUT! (greendug)
PFC (powerflowercrew) artpack #2 is out! Download this a l i e n t h i n g and enjoy! 8)~~~~` http://www.bfg.org/pfc/pfc-art2.zip

09 October
WHERE IS FOS #11? (inazone)
I know FOS #11 is late, but I already announced that it would be! I was shooting for October 10, but
since I will be out of town all weekend, look for it NEXT WEEK.
Lots of articles this month, plus tutorials, interviews, etc.
This month, FOS welcomes 4th Disciple to the staff!
More to come...
08 October
X-FORCE?... (count zero)
About a month ago, a guy named "Viper" from a group called "X-Force" asked me to do a header for a .NFO file for X-FiSO, some subdivision of theirs. Welp, the header is done, but Viper's e-mail seems to be down. Viper or any other X-Force member: If you read this, e-mail me so's I can give you your hea der.

APATHY (misfit)
If you're reading this and you were, at some point in time, an active member of Apathy Studios, email me (misfit) at jbodie@hotmail.com .. i wanna see how everyone's doing, talk with ya, etc. it's kind of important. get in touch.

AWE (tna)
Just wanted to let y'all know that AWE-17's been out for almost a week now. You can get it via AWEdcc
on #awe.
... And also that I'm still around and running the group, even tho Dissonance's the one working on the pack and stuff.
07 October
POLYMORPH IS BACK! (polymorph)
I've been gone for a while, but now I've done an ascii for the next Mimic release. Don't expect too much though. Is this news?

06 October
ACRYLIC WEEKLY RETURNS! (sodium)
Following is the press release offered by SodiumCo.
"Good afternoon, we'll make this brief. After taking much time off from the scene, Sodium, our president, has announced that he revive his smash-hit weekly news magazine by the end of October 1998. We have no other information at this time. Please check back here for details in the near future. Thank you."
SHRIMP'S COMEBACK (shrimp)
After taking a long break, Shrimp, an Israeli ascii artist, is coming back - This time to the ansi scene. Shrimp is saying he (and many more) thinks his ansi is *MUCH* better than his ascii, and he also finds the #ansi channel more suitable for him (erm..).
Shrimp was in CIA, Awe lettering, Odelay and NoName.
05 October
GUTTER #5 (filth)
KILL YOUR PARENTS. DROP OUTTA SCHOOL. HAVE UNPROTECTED SEX. DO LOTS OF BAD DRUGS. GET INTO FIGHTS. DESTROY THE GOVERNMENT. BURN A FLAG. DOWNLOAD GUTTER 5, CAUSE IT'S DEAD. http://www.angelfire.com/pa/gutterbong.

DEF JAMZ DELAYED (scientifik)
I am sad to inform all of you that defjamz will be delayed until either horrid or someone else with version 1.65 of ebuild comes foward and hooks me up. Version 1.6 has a bug in it where if you put more then a certain number of ansis inside the dat file it gives you a run time error. So if anyone has version 1.65 please find me on irc, or send it to my email address.....

04 October
BLENDER KOMBAT (dangermouse)
If any team still wants to participate in Blender Kombat, then by all means tell me -- the only team so far that has expressed interest in iCE.. Come on, let me know if it's even worth going on with it -- we're so close to the end as it is..

HRG #20 IS OUT (shere khan)
Well, it was out October 1st, but since ftp.cdrom.com was down, it was somehow unfair to post the link. Now cdrom is up, and you can get the big, fresh, beautiful and clever pack number 20 at
ftp://ftp.cdrom.com/pub/artpacks/artpacks/1998/hrg-20.zip
Enjoy it... like we all did.
FUNCTION RELEASE (quip)
Function has released their October pack. Pick it up at function.cjb.net.

03 October
BLACK MAIDEN #18 OUT (poti)
Finally a new book by black maiden, wich is for download here. Features konami as new member and some nice guest-contribs.

REMORSE #26 RELEASE (whodini)
Remorse #26 is released. You can download it at ftp://ftp.remorse.org/pub/remorse/current/rmrs-26.zip

JOINTS, ANYONE? (count zero)
Hey, c0.iCE here. I'm looking to expand my artistic horizons, and I wanna do some joints (the ansi kind, dammit) with other ansi artists. E-mail me if you're interested.

02 October
HIREZ.ORG SUPPORT (mongi)
I now know that dangermouse isn't able to help out in maintaining the site. Therefor I need some people to help me with updating the site and so. Writers, artists etc are all welcome. We will probably use dangermouse's old design, which is real good.
You can always send some money to support the server, just a couple of dollars. Just talk to Rw about it.
FORCE (_rzicus)
Force #23 has finally been released! Download our pack from http://www.ozemail.com.au/~dodan/force-23.zip

ICE RELEASES! (trip)
Hey there. Some people bitched and moaned about iCE being perpetually late.. well. Eat your heart out. :> You can get the new iCE pack at: ftp.ice.org/pub/icepacks/1998/


HIREZ.ORG UP AGAIN! (mongi)
Hirez.org is registered again, by me. Rw will be hosting it again, but with some policy change. Shell and e-mail accounts wont be given out free, because too many "abused" the accounts. If you would like an account, you'll have to pay a small fee to Rw. We hope that Dangermouse will be willing to help out with the page again.
The site is not up yet. Some configurations are still to be done.
All of us are putting money and work into this, so if YOU would like to contribute in some way, feel free to contact me. We would appreciate some monetary support, like donate a couple of bucks for the server. Contact Rw for donations.